A Guide to Growing Your Business With Live Video Marketing
Video content is the future.
Video is the preferred content format for almost everyone using the Web. This is only going to increase in the coming years. Yet, it's still in its infancy (in some ways) which places you in an advantageous position.
Getting on board with live streaming — now — satisfies both content AND video marketing endeavors.
If you're truly interested in video, live events, and the future of marketing then tune in. We're getting into the strategies that make live video marketing worth its while. So, follow along and be part of the future of the Web and business..
Why Live Video Marketing?
The market and generational shift in video consumption is already taking place.
Viewers are turning away from traditional TV. The shift is even faster among Millenials and Gen Z. Platforms like Twitch, YouTube, Facebook, IG, and Periscope are all seeing their userbase grow.
The pandemic of 2020 certainly had an influence on the shift to online video and modern platforms, too. During this same time, live streaming, subscription services, and VTubers are on a dramatic rise in popularity. If anything, it's apparent that in recent years we have accelerated cord-cutting and our online media consumption.
On the marketing forefront, holding someone's attention is harder than ever. However, we humans are social creatures and we outright crave social interaction. Live-streamed events are a modern solution to this need for social interaction and entertainment. It's also filling the gaps created by society's drift toward isolation.
We're watching more live videos than ever before. We're also deeply engaged with content through the format. And, we're feeling connected and part of a larger community. This is powerful when it comes to marketing and branding.
Getting Setup for Live Video Streaming
Live streaming is for everyone. That's the fun of it all.
Getting setup for live streaming can take a simplistic route. A smartphone and platform account is the only real barrier to entry. Of course, you're welcome to invest in quality streaming equipment and pump up the production value.
Upper-level production goes one further with high-quality production platforms. Our broadcast software, for example, offers an all-in-one platform for top-tier live streaming production. This software and equipment, along with interesting video subjects, redefines production and opportunities through the medium.
Choosing the Best Live Streaming Platforms
There are several opportunities to host live streaming events. Ones we like include:
There are platforms — such as our Studio — that offer seamless live streaming capabilities. Combined with the right setup, you'll have the best opportunity to reach an audience.
Not all live streaming platforms are the same and that's because of the audience. It may take trial and error, or a bit of deep research, but you'll want to find where YOUR audience is. So, the "best" live streaming platform is the one where the eyeballs are — not where you're trying to corral them.
Streaming Your First Live Show/Event
We've covered the details of starting off with live streaming already. That's the easy stuff.
What's worth pointing out, in the context of this blog's topic, is the value of your first live show/event.
The first live-streamed show/event is a huge milestone and learning opportunity. That's why it's worth bringing on someone to monitor the community and engagement during the event. Through live note-taking, this first foray with live streaming provides much-needed data to refine your presentation.
Data collected from the first event can include:
Viewership
Sharing
Engagement
Conversions
There are several video marketing KPIs you can account for when collecting data. Though it may not all make sense now, these insights will shape many of your efforts moving forward. From personal presentation to titles, links, and call-outs, the first live stream is a turning point for your success so absorb as much as you can.
Live Video Marketing Strategies & Tactics
Strategies are much like finding your groove with production and platforms. There's no "best" strategy for live streaming, every stream is unique by way of live interaction. There are many external factors playing into campaigns. That said, there are things that improve live video marketing efforts.
The following strategies and tactics are sure to be worth their while:
Behind-the-Scenes
You tend to become absorbed into a brand when you love it.
This obsession can lead to a desire to see what's happening behind-the-scenes. The voyeur-ish fascination with knowing how the organization functions. And, to have a way to interact with favorite people beyond the mainline channels.
Behind-the-scene live video marketing is great for three things:
It adds a ton of personality to the brand
It lets you hype and "drip" offers to the community
It helps with making the brand be more inclusive
You're removing barriers between the brand and it's community. Even the mundane stuff can be an exciting piece of content with the right personalities. Plus, highlights and clips from these videos transform into PR pieces with ease!
Live Events
Flights, hotels, meals, and more. Add on event tickets and all the extras and these items get expensive when traveling. The thrill of being at a live event physically is hard to replicate. But, we can get pretty darn close through high-quality live-streamed events.
Let's not beat around the bush either: it's not like anyone is traveling at the moment anyway.
Live events aren't restricted by physical locations nor are they hampered by budgets. An organization can take savings from renting out spaces and put it toward talent and production. This means an even better experience for those tuning in. With this comes a better reputation in the industry and market — the type of fame that drives success.
Brainstorm a live event for your organization. Maybe it will be:
Virtual conference
Community meetups
Music & arts event
With a touch of event planning and creativity, you can make something great!
Ask Me Anything / Q&A
Reddit's AMA (ask me anything) format is insanely popular. This format spilled over to other areas of the Web. Live streaming, as one could imagine, is the perfect platform to do an AMA. It's also perfect for structured Q&As with the community.
There are two ways to explore this with ease:
Announce you're doing an AMA and go in blind
Take in questions (beforehand) for a slight scripted stream
The AMA format is still the better of the two because it's off the cuff. The presentation is inviting and relaxed. It can also go for as long as you want (given you keep receiving questions).
The Q&A format is a little better for corporate types. The touch of moderation isn't as welcoming but it does keep the stream focused. This lets you nail the big questions vs going off on tangents.
Here's a little bonus:
Each one of those questions reveals info about the community. You can use that as feedback or with content creation. Pick out the questions that had tons of engagement. Then replicate that in the whole marketing campaign.
Launches
Got a new product or service about to hit the market? Why not make an event of it?!
Live streaming the launch of a new offer builds a ton of hype. You can use this moment to answer questions from would-be buyers. You can also use the opportunity to pitch offers and take payments for them!
This is like going back to the old days of live TV shopping.
Live selling and streaming eCommerce capabilities are big things now. Give it a try, see how it works for your brand. This may become the new standard for each new product and service launch!
Interviews
Take the concepts of doing an AMA/Q&A and direct it to someone interesting.
Viola! You've got live streaming interviews.
Live interviews are raw. They offer a glimpse behind the mask of interesting characters. It may seem off-putting to some but a lot of people love the authenticity. It feels like you're making a genuine connection with those on the screen.
Do this:
Find a few influential individuals in your industry. Reach out and pitch them on the idea of a live video interview. Set up the platform and announce the date. Go live and start having fun!
Repeat this a dozen times with people across your network. Take those recordings and turn them into content for the blog, too. That there is a double win for content marketing!
Just For Fun
It's hard to go back to pre-recorded video after you've experienced live streaming.
The constant engagement is exciting. Being able to interact with audiences in real-time creates a personal-touch environment, virtually.
There's also less stress when live streaming. You aren't toiling away at scripts and editing. You get to jump right into whatever topic and adapt to how the community reacts.
Ultimately, you get to develop a genuine personality. One that feels real to viewers because it's not all scripted. This, right here, is what connects you to the audience. They now feel part of that greater community and following.
You're the star! The content creator is king.
Because people are so enthralled with your business — they'll tune in for whatever you've got in mind!
Amplifying Live Streaming Video Marketing Efforts
Getting started with live streaming isn't a huge challenge. As noted, anyone with a smartphone and account can start broadcasting. The real challenge comes when you use the format for video marketing.
We understand the challenges content creators and event organizers have with live streaming.
That's why we launched Shoflo.
Shoflo aims to take care of the backend of your live streams and events.
Our tools include production agendas, teleprompting, and live streaming support. All the things you need to produce a great event. Yet, simple to use tools that won't get in the way of production.
We'd love for you to explore what we have for your live video marketing efforts.
Let's collaborate and make something truly great. Let our live streaming software help your start streaming like a pro. Schedule a demo and connect with our Product Specialists to see Shoflo in action.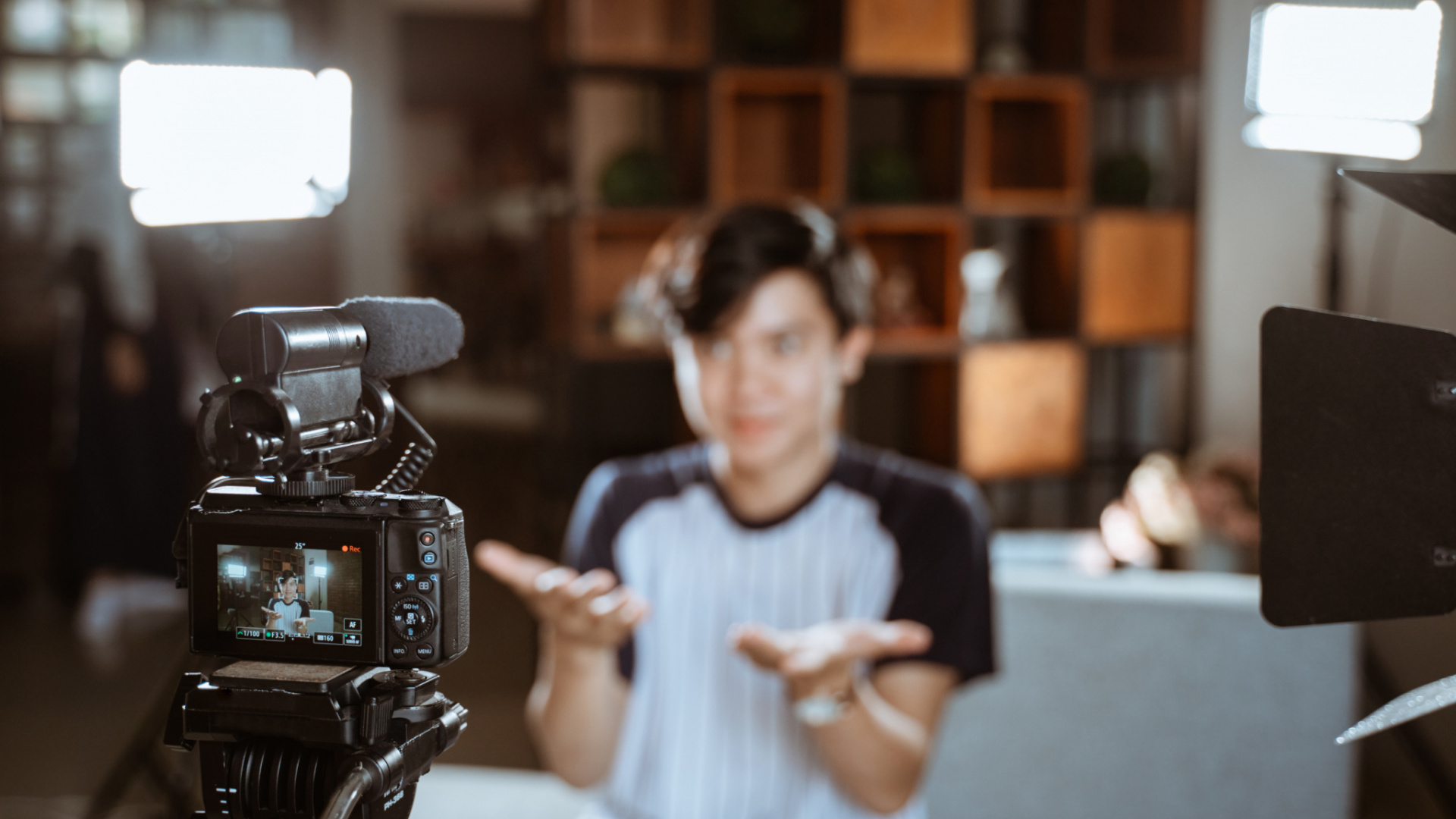 Are you unhappy with how pictures of you have been coming out lately? Learn how to look better on camera…