The Best Live Streaming Equipment for Every Budget
If you want to start live streaming, you're going to need the right live streaming equipment. Here are some of the options available for every budget.
Live streaming content has exploded in popularity in recent years. Whether you vlog about your life, stream content as a hobby, or even use live streaming for your occupation, it's essential that you use high-performing equipment.
Of course, not everybody has tens of thousands of dollars to spend on top-tier gear. So, we've put together a short guide with the best live streaming equipment for every type of budget.
What Kind of Equipment Do I Need?
Before you begin to budget for your streaming equipment, it's essential that you understand what type of gear you need to begin. Fortunately, this doesn't require a large number of various tools in order to create high-quality content.
Listed below are some of the most notable purchases you should consider.
Cameras
The obvious main element of a live streaming video. Below are four type of which you could choose from.
Action Cameras
As the name suggests, this type of equipment is specifically designed to capture footage that includes a high level of movement. As such, they are ideal for streaming sports games or other athletic events.
Action cameras are particularly useful for streaming sports with extremely quick movements, such as boxing.
Camcorders
This type of equipment is great for general live streaming. Not only is it easily portable, but a camcorder is also able to produce high-quality recordings.
So, keep this in mind if you are looking to film content in 4K resolution. Additionally, camcorders can easily connect to your computer in order to transfer files.
DSLR Cameras
A DSLR camera is a great budget option for those who wish to begin live streaming content.
There are two primary types that you can choose between:
DSLR and mirrorless.
These terms refer to how light travels as the camera is used. Put simply, a mirrorless camera is a superior option when it comes to recording video in a high resolution.
Regardless of which option you choose, though, you will need a video encoder in order to transmit live video footage onto streaming platforms.
Webcams
In the past, webcams were the only option for those who were looking to live stream. They were also notorious for producing low-quality footage.
While you won't be able to achieve top-tier results with a webcam today, there are plenty on the market that can meet the needs of hobbyists or those who are on a tight budget.
Microphones
It should also come as no surprise that you will need a microphone in order to facilitate your live stream. As with video cameras, there are multiple types that you can choose from.
Let's take a quick look at your available options.
Built-in Microphones
In general, built-in microphones are only capable of producing low-quality sound. So, they shouldn't be used unless you have no alternative.
If you do find yourself having to use a built-in microphone, you should attempt to upgrade as soon as you can.
USB Microphones
This type of microphone is a great mid-tier option. They are relatively inexpensive and can easily connect to a laptop or computer via a USB port.
Additionally, the built-in microphones on professional video cameras are capable of producing a similar level of quality.
XLR Microphones
The above term references the fact that you will need XLR cables in order to utilize this microphone. It is capable of producing the highest quality audio, but you will need to connect it to an audio interface in order to use one for live streaming.
This interface can then be connected to your computer through a USB port.
Additional Gear
Depending on your needs, you might require extra equipment in order to produce the highest quality content possible. For example, you might want to outfit your streaming environment with LED lights or use a tripod to hold your camera.
You might even use a green screen to provide an extra layer of entertainment to your viewers. The cables that you use to connect your video and audio equipment also fall into this category.
Entry-Level Equipment
Most people will begin in this category when they start live streaming. This typically includes those who do it for a hobby or business owners who are experimenting with this type of content creation.
Fortunately, even entry-level gear can still produce notable results.
Cameras
First and foremost, the Canon VIXIA HF R800 is one of the most inexpensive camcorder options available. But, this doesn't mean that it can't sufficiently meet your needs.
For those who prefer a Webcam, the Logitech StreamCam comes with a built-in microphone and is capable of recording at 60 frames per second. You can also connect to your computer via a USB cable.
Microphones
The Behringer XM8500 is great for those who are looking to get started with live streaming.
This type of microphone is known as a cardioid microphone, meaning that its recording capabilities focus most on a sound that is directly in front of the microphone. So, background noise won't be much of an issue.
For those who wish to keep their budget as tight as possible, the Lavalier Microphone is an ideal choice. Keep in mind, though, that this microphone is omnidirectional, which means that it will record sound from every angle.
This means you'll have to pay a bit more attention to the noise in your recording environment.
Additional Gear
You may or may not need any additional equipment depending on your situation. But, entry-level streamers can benefit from securing an additional light source.
Panel lighting, for example, is an affordable way to illuminate your streaming location. An alternative is to use as much natural light as possible.
But, this will confine you to live streaming during the daytime. If you wish to stream yourself playing video games, you will also need a console capture card in order to facilitate this.
Mid-Tier Gear
This level is for those who are a bit more serious about streaming. It also contains options for people who have a rather extensive budget for streaming equipment.
Although more expensive than entry-level gear, mid-tier equipment provides a noticeable jump in quality.
Cameras
The Sony a6300 offers a unique combination of high-quality recording and portability. Don't let the small size fool you — this device is capable of hanging with the best of them.
Its most notable attribute is its capability to record in a wide variety of different settings. So, you can use it both for indoor and outdoor streaming locations.
A cheaper alternative is the Panasonic Lumix G7. This camera is capable of recording in 4K quality, something that many serious streamers strive to achieve.
Keep this factor in mind when making your decision.
Microphones
This is where you will see the biggest jump in quality compared to the previous tier.
The Blue Yeti USB Microphone is one of the most popular mics used for streaming. Despite the fact that it's not an XLR mic, it is capable of producing crisp, high-quality recordings.
The Audio Technica AT2035, on the other hand, is an XLR microphone. This means that you will need a separate audio interface in order to use it.
But, it is capable of achieving better quality recordings, making it a preferred option for those who have the budget for it.
Additional Gear
At this stage, you can benefit highly from purchasing a tripod. This will allow you to keep your camera stable while recording and capture footage from an ideal angle.
You may also want to invest in an additional lighting source. Oftentimes, lighting is the issue when somebody is unable to achieve the level of quality they want.
High-Budget Streaming
This is where you will find the best gear for this purpose. Of course, it will also be the most expensive.
If you have the budget and you're willing to make an investment in the future of your streaming career, this is the type of gear you should consider.
Cameras
One of the best options when it comes to recording video is the Sony PX W-Z90.
This device is capable of recording footage in 4K quality. But, it's also capable of recording an enormous color range.
You can stream directly to different major online platforms, and its enhanced autofocus capabilities allow you to easily record crisp footage.
A cheaper but nearly as effective option is the Epiphan LUMiO. One of the major benefits of this camera is that you can mount it to any flat surface and change settings with a remote, allowing you to ensure you don't tamper with the angle you achieved.
Microphones
Those who are familiar with recording audio may have heard of the Shure SM7B. This XLR microphone is renowned within the streaming community for its ability to produce high-quality recordings.
Additionally, it comes with a built-in pop filter, which prevents your audio from spiking when you say words that contain the letter P or B.
Additional Gear
As previously mentioned, it's worth investing in a tripod. But, tripods come in different levels of quality just like other types of equipment.
A tripod with a fluid head allows you to make precise adjustments to your camera angle. Additionally, it is highly stable and easy to set up.
If you find yourself using multiple cameras, you will need to use a switcher in order to control them simultaneously. The Rolando V-1 HD Portable is the premier option in this price range, and you can even control it from a computer or iPad.
Start Streaming Like a Pro
Live streaming is a game-changer in today's world. Choose equipment that is most compatible with your needs and set up, and then you're ready to start streaming! That's where we come in – we're here to help you stream like a pro using tools that make you look like an industry expert. Check out all of our tools and schedule a demo with one of our product specialists!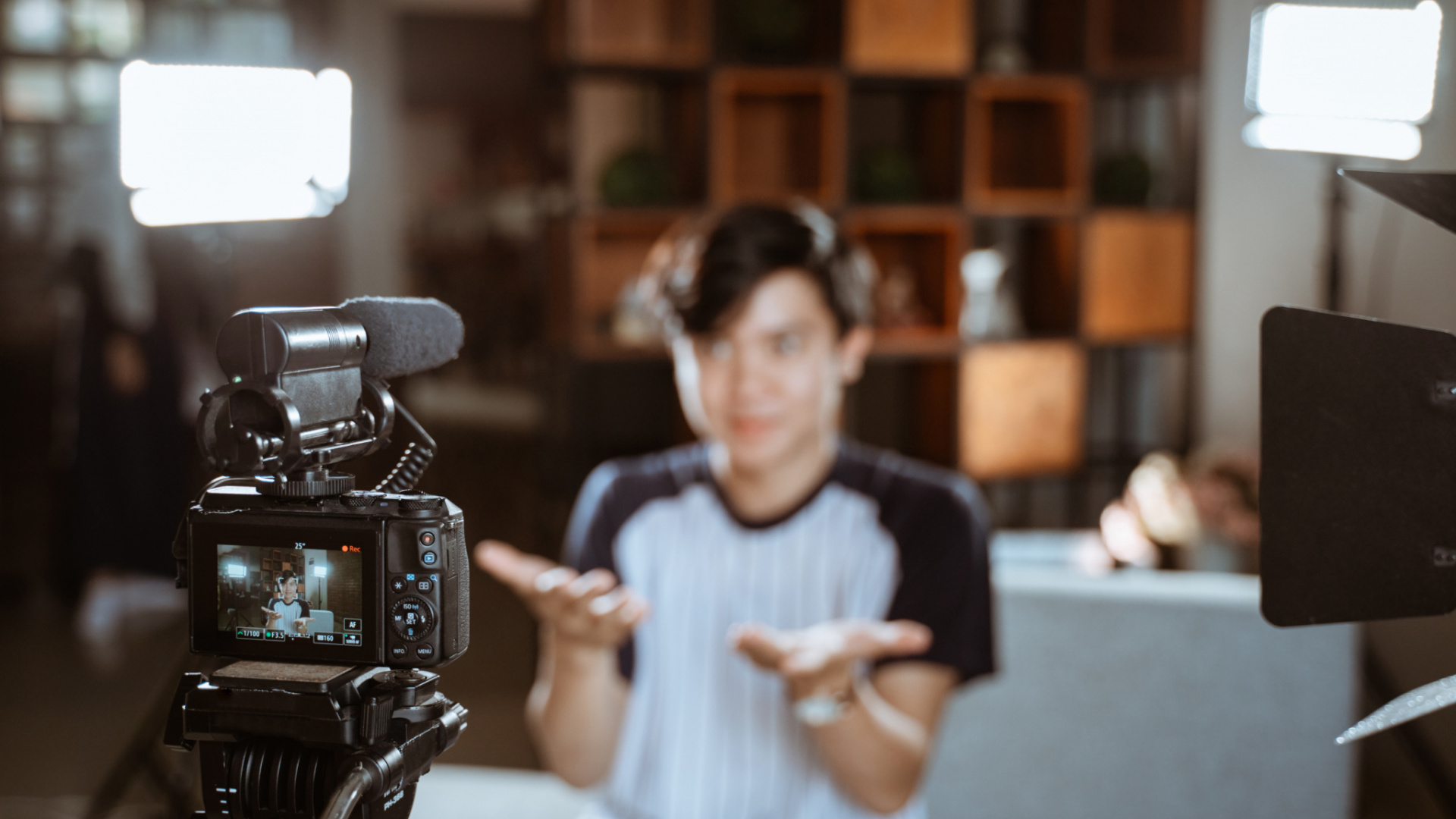 Are you unhappy with how pictures of you have been coming out lately? Learn how to look better on camera…